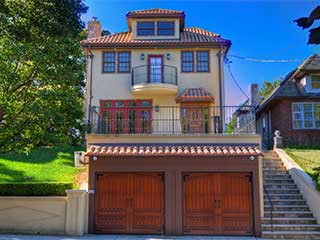 Each garage door material has its own pros and cons that can make it a good or a bad choice for different properties. It is indisputable that wooden panels hold some type of classic beauty that seems to appeal to most homeowners. Wood is actually what was used for the very first garage doors ever made, which happened over a century ago. It's no wonder this material is still a very popular choice nowadays. If you're considering a garage door replacement project, you'll want to learn some useful information about the benefits and potential downsides presented by a wooden door.
Consider The Weight Factor
Good wooden doors are usually very heavy and, therefore, you might need to purchase a new garage door opener and springs, in order to support the added weight. Your current infrastructure may not be able to adequately handle the added load, which could lead to frequent breakdowns and other unexpected issues.
Think About Insulation
Wood is known to be a natural insulator, which means it can be a great way to reduce the heat transfer of your garage. If you live in somewhere where the temperature gets very high or very low, you may want to invest in a door that boasts additional layers of insulation, and not necessarily one that simply relies on the quality of its wooden panels. A steel overhead door with a high R-Value may beat a wooden model with no added padding.
Some Extra Maintenance
Wood's main downside is that it is very sensitive to the elements, which means you'll require more frequent garage door maintenance service vists. To protect a wooden door, you'll need to apply it with protective coatings every couple of years and make sure the paint hasn't started to peel in the meantime, as that will allow moisture to penetrate the material which could lead to rot and warping.
The Main Benefits
Wood is still considered the 'king of design choices', especially today when you can buy doors in different colors and styles. Getting a wooden garage door will definitely increase the curb appeal of your home as well as it's market value. If you're looking to get such a door installed, our team will be happy to help. Contact our experts at Garage Door Repair Friendswood to learn more.