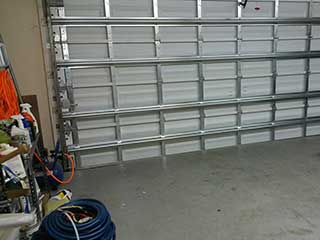 Why do you need professional maintenance services? Long story short: because a trained eye will notice the very beginning of a problem and fix it before it has a chance to damage the rest of the system.
Technicians Are Like Detectives
Out experts are very knowledgeable and have years of experience under their belts. This makes the first maintenance task, visual inspection, much easier and faster. Even the smallest things that are out of the ordinary will speak volumes to our team. Loose or sagging components, rusty patches, frays and dents will tell us exactly what needs to be done to make your door perfectly safe and work without any glitches.
Metal Component Lubrication
We know there are many DIY pages out there, but our advice to you is: take it with a grain of salt! Yes, lubrication is important because it will both keep the rust off and minimize the noise. And yes, it is something every homeowner is able to do, but only if they have all the correct information. Our team knows which rollers need lubricant and which don't; how much product to use for each of the components, as well as how to spread it evenly while staying safe!
Keeping Your Family and Property Safe
Those small lenses on both sides of your garage door have a very important role. One photo eye directs an infrared beam to the other, and when that beam is interrupted by an obstruction, the door will stop its downward movement and go right up. This is how your vehicle, children and pets are kept safe from the door falling on them. All it takes is a rodent hiding in your garage and chewing on the wires when no one's around to cause a problem. But don't worry, our team will make sure the sensors are properly aligned and that their wiring is without fault.
But wait, there's more! We also offer:

New Garage Door Keypads

Part Replacement & Repair

Track Replacement & Repair

Oil Tempered Torsion Springs